Yin
Released by The Dick Bros Record Company: 4-SEP-95 (Germany: 28-AUG-95)
---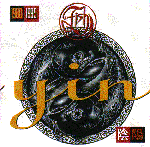 | | | |
| --- | --- | --- |
| Cassette | Europe & UK: | DDick11MC |
| CD | Europe & UK: | DDick11CD (PIAS 105.0011.20 - 382P) |
| | U.S.A.: | (Renaissance Records) RMED00127 - released 10 September 1996 |
---
01.
Incommunicado

(5:08, 1995 Re-recording)
[Dick/Rothery/Kelly/Trewavas/Mosley]
Fishy Music Ltd.
02.
Family Business
(5:14, 1990 Original Recording)
[Dick/Simmonds/Lindes] Fishy Music Ltd.
/Hit & Run (Publishing) Ltd./Copyright Control
03.
Just Good Friends
(5:46, 1995 Re-recording
featuring Sam Brown)
[Dick/Usher/Boult/Simmonds]
Fishy Music Ltd./Hit & Run (Publishing) Ltd.
04.
Pipeline

(6:55, 1994 Original Recording)
[Dick/Paton/Boult]
Fishy Music Ltd.
05.
Institution Waltz

(4:03, 1995 Recording)
[Dick/Minnitt/Rothery/Kelly/Pointer] Fishy Music Ltd.
/Hit & Run (Publishing) Ltd./Copyright Control
06.
Tongues

(6:17, 1991 Original Recording)
[Dick/Simmonds/Usher/Boult]
Fishy Music Ltd./Hit & Run (Publishing) Ltd.
07.
Time And A Word

(4:22, 1993 Original Recording)
[Anderson/Foster]
Topographic Music Ltd.
08.
The Company

(4:05, 1990 Original Recording)
[Dick/Simonds]
Fishy Music Ltd./Hit & Run (Publishing) Ltd.
09.
Incubus

(9:40, 1995 Re-recording)
[Dick/Rothery/Kelly/Mosley/Trewavas]
Charisma Publishing
10.
Solo

(4:10, 1993 Original Recording)
[S. Denny]
Warlock Music Ltd.
11.
Favourite Stranger

(6:03, 1995 Re-recording)
[Dick/Usher]
Fishy Music Ltd./Hit & Run (Publishing) Ltd.
12.
Boston Tea Party
(4:58, 1995 Re-recording
With the Sensational Alex Harvey Band)
[A. Harvey/H. McKenna/A. Cleminson]
Polygram Music Publishers Ltd.
13.
Raw Meat

(6:52, Edited intro, 1994 Original Recording)
[Dick/Usher]
Fishy Music Ltd.
Total Time

73:43



Credits:
ON THESE ALBUMS I'd like to thank EMI Records UK Ltd & Polydor UK Ltd for making this compilation possible.
Special thanks to Penny Ganz, Fin Costello, Neil Hendry, Neil Dalgleish, Judy Totton, Nigel Hassler, Steve Hedges & PTI, Bob Ludwig, Lynda Hill & all at Kick Musik (Germany), Sam Brown, John Taylor, Steve Howe, Capercaille, the SAHBs, Marillion, John Crawley at Hit & Run Music (Publishing) Ltd & everyone at Forth FM.
Extra Special thanks to Frank, Robin, Davie, Foss, 'Squeaky' Dave, Mickey, Kevin, James C., Avril, Rob 'Barney' Ayling, Robert White, Jeremy Lawson, Kelvin Boys 'Yatta' Yates, Andy Williamson, Mark Wilkinson, Moira D McGregor, Steve Pearce & Trish.
Thanks also to Zildjan, Sonor Drums, Peter Bowie, Vince Murray and Jo Sherry for their guitars, Simon Hart at Mesa Boogie, Nigel Spennewyn at Guitar Land (Watford), Sound Control (Edinburgh), Kenny and all at the Tyneside Tavern, Delaney's Irish Bar, Hard Rock Cafe.
For my wife Tamara, daughter Tara, my mum & dad, sister Laura & Husband Chris, and all the members of the Company without whose support & backing none of this would have been possible - 'I'll always have the strength to carry on.'
Fish Information Service 'The Company' has independent outlets available in Holland, Germany, Belgium, France, Switzerland, Italy, Scandinavia, Austria, USA, Australia, Czechland, Poland, South Africa, Argentina & the UK. All can be contacted through the Company Scotland by sending a self-addressed envelope with stamp or I.R.C. to PO Box 3, Haddington, EH41 3TA, Scotland U.K.
More Fish info on the internet - 'The Company Online' is at:
http://www.livjm.ac.uk/fishnet/
A separate booklet containing lyrics and anecdotes as well as a box for both Yin and Yang are available from this address together with a comprehensive list of merchandise & material available from Dick Bros Record Co. including 'official bootlegs', video's & previous releases.
There are too many names & too many thankyous to try and contain in a rambling sleeve note. You all know who you are and where you belong in the elaborate scheme that is my career. It's been a long curve that's sometimes seemed out of sight, out of control and out of mind. To everyone who's been involved in the last 15 years I can only say that I remember all the contributions, advice, criticism, guidance, support, input & help both spiritual & physical throughout all the albums & tours that have punctuated my life.
Mastered by Bob Ludwig at bob ludgwig's gateway mastering, Porrtland, Maine, USA.
Cover Illustration Mark Wilkinson from a concept by Fish.
Photography Fin Costello
Assistant Neil Hendry
Sleeve design Neil Dalgleish
A companion album 'Yang' (DDick12CD/MC) is also available featuring 13 tracks including re-recordings and previous unavailble material. Tracks include Kayleigh, Lavender, Big Wedge, A Gentleman's Excuse Me, Fortunes of War.
This compilation p & c 1995 Dick Bros Record Co. Ltd.

---
Last Modified: 27 Mar 2003