Vigil In A Wilderness Of Mirrors
Released by EMI Records Ltd.: 29-JAN-90
---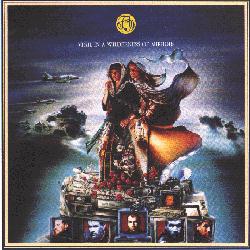 LP
UK :
EMD 1015
Europe:
064 7 93634 1
12" Picture Disc
UK :
EMDPD 1015 - Contains a Poster
Cassette
UK :
TCEMD 1015
Europe:
264 7 93634 4
CD
UK :
CDEMD 1015
Europe:
CDP 7 93634 2 (0 077779 363421)
Japan:
TOCP 6103
CD Promo
Japan:
TOCP 6103
Normal edition, with special wrapping with red print
"sample not for sale" around the transparent hole of the CD.
CD Remaster
UK/Europe:
DDICK28CD (5034349 0000 44) Release: 18-Dec-97
UK/Europe:
Roadrunner RR 8687 2 Release: 28-Oct-98
---
Side A:
01.
Vigil
08:43
[Dick/Simmonds]
02.
Big Wedge
05:19
[Dick/Simmonds;
Brass arrangement by Kick Horns]
03.
State Of Mind
04:42
[Dick/Simmonds/Lindes]
04.
The Company
04:04
[Dick/Simmonds; Arranged by Simmonds/Dick,
Strings arranged by Simmonds]
Side B:
05.
A Gentleman's Excuse Me
04:15
[Dick/Simmonds ;
Strings and Horns: Orchestrated by Gavin Wright]
06.
The Voyeur (I Like To Watch) (CD &Cassette Only)
04:42
[Dick/Simmonds]
07.
Family Business
05:14
[Dick/Simmonds/Lindes;
Arranged by Simmonds/Dick/Gers]
08.
View From The Hill
06:38
[Dick/Gers]
09.
Cliché
07:01
[Dick/Simmonds/Lindes;
Arranged by Simmonds/Dick]
Bonus tracks on the remastered CD:
10.
Jack and Jill
04:28
11.
Internal Exile
04:52
12.
The Company (Demo)
04:29
13.
A Gentleman's Excuse Me (Demo)
03:55
14.
Wiplash
04:21
Total Time Remastered CD:
73:20
Credits:
| | | |
| --- | --- | --- |
| Instrument | Artist | On Track Nr |
| ------------ | ------- | -------------- |
| Lead Vocals | FISH | 1,2,3,4,5,6,7,8,9 |
| Drums | Mark Brzezicki | 1,2,4,6,7,8,9 |
| | John Keeble (appears courtesy of CBS Records) | 3 |
| Bass | John Giblin | 1,2,3,4,6,7,8,9 |
| Keyboards | Mickey Simmonds | 1,2,3,4,5,6,7,8,9 |
| Guitars | Frank Usher | 1,2,3,4,6,7,9 |
| | Hal Lindes | 1,2,3,4,5,7 |
| | Janick Gers | 8 |
| Percussion | Luis Jardim | 2,3,4,6,9 |
| Pipes &AMP Whistles | Davy Spillane | 1 |
| Whistle, Bodhran &AMP Accordian | Phil Cunningham | 4 |
| Backing Vocals | Carol Kenyon, Tessa Niles | 2,3,6,7,9 |
| Brass | Kick Horns (Lorimer, Sanders, Clarke, Spong) | 2 |
| Violins | Aly Bain &AMP Gavin Wright | 4 |
All tracks published by Fishy Music Ltd/Hit &Run(Publishing) Ltd except
State Of Mind, Family Business and Cliché Fishy Music Ltd/Hit &Run(Publishing)Ltd/Copyright Control.
Lyrics reproduced by kind permission.
Engineered and Produced by John Kelly Assistant Engineer Al Store (The Court Jester).
Thanks to KLARK TEKNIK, HARMAN AUDIO, PEAVEY, AKAI and SOUND CONTROL EDINBURGH for equipment supplied.
Thanks to ERIC MILLER, KEITH INVERARITY, ALISDAIR GOW, THE ROYAL BANK OF SCOTLAND, DALKEITH, HIBERNIAN F.C., KEITH SLAUGHTER, JOHNNY AND MARTIN JENKINSON, JIMMY DUBICKAS, DAVID AND KENNY DUNN, MITCH, DOUGIE, JIMMY DUNN, RENNIE THOMSON, MURDIE, WILLIE GOODALL and all the boys who helped me build the house on the hill, BRUCE WATSON, JOHN KEEBLE, ALISON JONES, NEIL HAY, JANICK GERS, HAL LINDES, CHRIS KIMSEY, JUDY TOTTEN.
Special thanks to my wife TAMARA, MUM AND DAD AND SISTER LAURA, JOHN AND LORAINE CAVANAGH, MICKEY AND SARAH SIMMONDS, ANDY AND ASH FIELD, STEVE ROBINSON, TOOTS HURRY, ROBERT FLURY, FRANK USHER, JOHN KELLY, AL STONE, ROBIN BOULT, MARK AND STEVE BRZEZICKI, MARK WILKINSON, STEF JEFFERY, TONY SMITH, JOHN CRAWLEY, HOWARD JONES, HOWARD RUBIN, ALAN STIRLING, FRED CUCCHI, ALL AT WATERSIDE BISTRO, ROBBIE THE PICT, NICK GATFIELD, MALCOLM HILL, BRIAN MUNNS, AMANDA RABBS, AND ALL AT E.M.I. and to everyone who played on and contributed to this album, for standing by me and giving me their hope, love, encouragement, support, and faith, without which I would never have been able to climb this high.
Thanks to MARILLION for showing me the hill.
Illustration by MARK WILKINSON from A Concept by FISH.
Design by RUSSEL WALKER,
Photographer CONEYL JAY, with thanks to THE SULLIVANS and many others for patiently posing TV Personalities from 'The Golden Age' by JEAN-AUGUSTE-DOMINIQUE INGRES.
FISH Information Service 'The Company', P.O. Box 3, Haddington, EH41 3TA.
This album is dedicated to WILLIAM JEFFREY, who never had a chance to see the hill.
The copyright in this sound recording is owned by EMI Records Ltd.
EMI Records Ltd.
---

Last Modified: 27 Mar 2003