Suits
Released by The Dick Bros Record Company: 16-MAY-94
---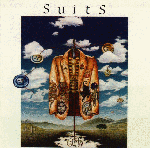 | | | |
| --- | --- | --- |
| 2 x 12" (45 rmp) | UK: | DDick4LP (PIAS 105.0004.18) |
| 12" Picture Disc | UK : | DDick4PIC (PIAS 105.0004.12) It has a die cut sleeve, numbered limited edition and contains a lyric sheet. |
| Cassette | UK: | DDick4MC |
| Promo Cassette | UK: | No Number, only Dick Bros logo. |
| CD | UK: | DDick4CD (PIAS 105.0004.20) - first release with extra photobook) + sticker "Limited edition PD and 12 page photo booklet" |
| | Japan: | (Pony Canyon) PCCY-01117 |
| | USA: | (Renaissance Records) RMED00134 Release: 17-Sep-96 |
| Remastered CD | Europe: | (Roadrunner Records) RR 8686 2 - Release: 28-Oct-98 |
---
Credits:
Charles McKerron and Mark Duff of Capercaillie appear courtesy of Survival Records
Recorded and mixed at Funny Farm Recording Studios, Haddington, nr Edinburgh
All tracks published by Fishy Music Ltd / Copyright Control
All lyrics Derek W Dick
Cover illustration Mark & Julie Wilkinson from concept by Fish
Label Manager Robin Ayling
Buttons taken from 'The Book Of Buttons' by J. Whittemore / Dorling Kindersley
Sleeve design Dream Disc
"Sound Station" digital editor supplied by Digital Audio Research and Francinstien Stereo Enhancement System
Copyright in this recording belongs exclusively to the Dick Bros Record Company, 1994
This album is dedicated to Willie, Johnnie and Robbie
Thanks to everyone who worked long and hard in the sweatshop, especially James Cassidy the undisputed "People's Champion", Frank, Davey, Foss, Robin and Kevin (Sunshine in Leith ?) for always believing the shot was possible and never leaving me behind the 8 ball. Moira and Steve for finding needles in haystacks, chalking the cues and living on the crumbs of magic cookies. Martin Stainton for looking after the buttons, Robert White for unravelling the threads, Yatta (the body double !) for the mannequins, the mirrors and the shop displays, Connie Moest for the catalogue (We all love you really Cloggie, more read wine anyone ?), Jim Houston for the umbrella, Rob "Barnet" Ayling for pointing out the Emperor's Clothes and helping me weave the new cloth, (You're hired !). Lawrence and Keith (HM) for the nightshifts and the refined wine, Mark and Julie for the colours, they never fade (but no flourescents please !), to veryone in the Comany World for the support and loyalty, the faith and commitments and for ever believing in the cunning plan. And finally to my family who as always helped me find a hold on the thread even when it seemed lost.
For other information on Fish and details of official merchandise including official bootlegs and other Dick Bros titles, please send a stamped self addressed envelope to :
| | |
| --- | --- |
| COMPANY SCOTLAND : | PO Box 3, Haddington, EH41 3TA |
| COMPANY USA : | PO Box 20766, Castro Valley, CA 94546, USA |
| COMPANY SWEDEN : | Per Hansson, Lindormsgarten 55, 50237 Boras, SWEDEN |
| COMPANY GERMANY : | Postfach 3022, 53739 St Augustin, GERMANY |
| COMPANY HOLLAND : | Postbus 23815.2502, GX Den Haag, HOLLAND |
| COMPANY FRANCE : | BP 52, 92322 Chatillon Cedex, FRANCE |
| COMPANY ITALY : | c/o R. Mario, Viale Certosa 123, 20151 Milano, ITALY |
| COMPANY BELGIUM : | Distelsstraat 63, 1030 Brussels, BELGIUM |
---

Last Modified: 27 Mar 2003