Internal Exile
A Collection of a Boy's own Stories.
Released by Polydor Records Ltd.: 28-OCT-91
---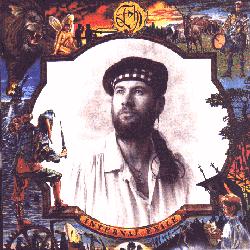 LP
Europe & UK :
314 511 049 1
Cassette
Europe & UK :
314 511 049 4
2 versions, Same cat no. and just minor changes in the sleeve design.
USA :
314 513 765-4
Poland:
(Compact) ST-730 (Pirate ?)
CD
Europe & UK :
314 511 049 2 (7 31451 10492 3)
USA :
314 513 765-2
Japan:
POCP 1162
Rusia:
(CD Media Records) N 2139
CZ:
(Popron) 5051-2 (Pirate ?)
CD Promo
Japan:
POCP 1162
CD Remastered
Europe:
(Roadrunner) RR 8687 2 (release: 28-Oct-98)
Contains an bonus track
---
Credits:
| | |
| --- | --- |
| Lead Vocal | Derek W Dick (FISH) |
| Keyboards | Mickey Simmonds |
| Guitars | Robin Boult & Frank Usher |
| Bass Guitar | David Paton |
| Drums & Percussion | Ethan Johns except Tongues & Internal Exile Internal Exile Ted McKenna |
| Male Backing Vocals | David Paton, Mr Crimson, Robin Boult |
| Female Backing Vocals | Maryen Cairns appear courtesy of Progressive Records |
| Fiddle on Internal Exile Internal Exile | Charlie Mc Kerron appear courtesy of Survival Records |
| Whistles | Marc Duff appear courtesy of Survival Records |
| Box Accordian | Donald Shaw of Capercaillie appear courtesy of Survival Records |
Produced By CHRIS KIMSEY for Chris Kimsey Productions.
Engineered by THOMAS STIELER
Mixed by CHRIS KIMSEY and MARK STENT
Recorded and Mixed at Funny Farm Residential Recording Studios, East Lothian, Scotland
All Songs arranged by DICK, SIMMONDS, BOULT, USHER
All Songs published by Fishy Music Ltd / Hit & Run (Publishing) Ltd.
except Something In The Air published by Fabulous Music Ltd.
All lyrics by Derek W Dick, except Something In The Air by Speedy / Keen
Lyrics reproduced by kind permission.
Album cover concept - Derek W Dick
Original artwork illustration - Mark Wilkinson
Front cover photography - Kenneth Martin, Innerleithen
Cover design & artwork - Mark Stockdale - Hughes at Peacock Marketing & Design
Management - John Cavanagh, Andy Field
Special thanks to my wife, Tamara, for standing by me under the flag and taking the strain (Holidays next year - Promise!), my Mum, Dad & sister for putting up with me and the bear, John (Just a couple of things) & Loraine Cavanagh and Andy & Ash Field for fighting with me at the barricades. Howard (Gone fishing!) Rubin, Howard Jones & Sheridans and Mark Brieley for directing the artillery, Bob Shafto & Martin Stainton for ordinance, Mickey (Oh! Is that a doo dah?) & Sarah (What a nice man!) Simmonds, Frank Usher (Afore ye go! Do a doobie do!) & Lynn Steer, Robin (Sorry! Was it an antique?) & Caroline Boult, David Paton (I was never a Bay City Roller - Honest!), Ted McKenna (It was not occurring!), for standing steady under intense fire and bear handling above and beyond the call of duty. Steve Robinson & Dave Waldon for passing the ammo and the tranquilisers, Ethan Johns for admirable reinforcements (Ethal The Eversteady!), Chris Kimsey (Captain Crimson!) & Thomas Steihler (Mr Steelteeth. Fire!! Fire!!) and Mark 'Spike' Stent (Where's the Great Dane?) for orchestrating manoeuvres with outstanding patience and enthusiasm, dedicated gremlin catching and catalogue hunting, (It'll be with you in a Jiffy!). Mark (I'll send a tape tomorrow! & Julie Wilkinson for the illumination and the colours, Moira McGregor for communications (Och No!), Fred Cucchi for securing the perimeter (I'll drive!), Eric (Cheery Bye!) Miller for masterminding, Keith Slaughter for designing (5" to the right!), Jim Houston, Colin Aitken at Adam & Co Ltd for financing (Any day now!). James, David (You're in the video!) & Kenny Knievel Dunn, Martin (Quiet night with the boys!) & Johnny Jenkinson, Jimmy Dubickas, Ricky Bryce and Mad Mitch Mitchell (It's a young wine!) for building, Reni & Simon Thompson, Brian Murray, Alan Gray, Eddie Berridge & Malcolm Douglas for plumbing & roofing, Willie Goodall, Alan Wilson, Steven Gibbs for painting, Peter Jones, Clyde Electronics, Jimmy Burnett for wiring the good earth, Dave Webster (Whoops there goes another mini bar!) & Klark Teknik, Alan Gavin (My good cardboard boxes!) & Graham Bell at Sound Control, Chris (That's my sister!) Gibbs & Wilson Carson DDA, Andy Munro, Phil Pyatt & Dynaudio Acoustics, Karl 'drop in' Chapman & Mitsubishi, Bauch & Studer, Akai, Peavey, PF Magnetics (Where's my clock?) Ampex, Ibanez, Jason Howe & Rotosound for equipping and supplying the castle (The cheques are in the post!). Jacqui Burke for outfitting the Jester. Laura Samuels (I put it with the other boxes...), Wilf (Aceed!) Donaldson, Jo Waldon for personnel maintenance. Dick Glass for jungle patrols, John Crawley, Tony Smith and Hit & Run for guarding the general's cocktail cabinet. Jay Crawford, Colin Sommerville, Mark Findlay and all the lads & lassies at Radio Forth for mapping the campaigns, Maurice Oberstein, David Munns & Graham Carpenter for sending in and John Waller & Dave Auty, Ian Ramage, Martin Birlison, Darrin Barter, Jimmy Devlin, John Reid, Jacqui Adams, Jo Busson, Shonadh French, Michelle O'Connor, Annie Newell, Paul Bultitude, Alistair Farquhar, Sarah Taylor, Mercedes Luis Fuentes, Denis (Listen without bullshit) McNamara and all the lads and lassies at Polydor UK Ltd for being the cavalry and the good guys. Peter & Ellen "Wookie" Wolters, Rene Romswinckel, Guido "Cookie" Kupper, Jorg Sticker & Joergen, Claudio Cozzutto and the "Company" for overwhelming support during the last year and the war with the suits.
No Surrender!
The Jester is dead, long live the Jester.
The exile returns signed Haddington Bear
This album was inspired by my country and is dedicated to my daughter Tara Rowena Dick, born 1.1.91 at Leigh, Edinburgh, Scotland.
FISH INFORMATION SERVICE:
'THE COMPANY' PO Box 3, Haddington, East Lothian, EH41 3TA, Scotland
'THE COMPANY HOLLAND', PO Box 23815, 2502 GV The Hague, The Netherlands
'THE COMPANY GERMANY', PO Box 3, 3022.5205, ST Augustin 3, Germany
'THE COMPANY ITALY', c/o Claudio Cozzutto, via Cascino Barocco 10, 20152 Milano, Italy.
Tel: 39 2 870269 Fax: 39 2 8056647
For information on the Flower of Scotland tartan as worn by the Jester contact:
House Of Edgar (Woolens) Ltd., 12 Moulin Road, Pitlochry, PH15 5AF Tel: 0796 2432 Fax: 0796 3869
1991 The Copyright In This sound recording is owned by Fishy Records Ltd. And Exclusively Licensed to Polydor Ltd. (UK).
1991 D.W. Dick
---
Last Modified: 27 Mar 2003