Fortunes Of War
Released by Dick Brothers Record Company: May-98
---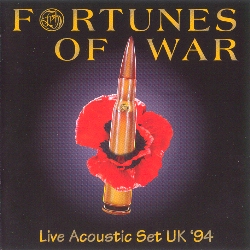 | | | |
| --- | --- | --- |
| CD | UK: | DDick30CD (5 034349 000068) |
| | Europe: | Roadrunner RR 8689 2 |
---
| | | | |
| --- | --- | --- | --- |
| 01. | Somebody Special | (04:46 - Live, Norwich) | [Dick/Boult/Paton] |
| 02. | State Of Mind | (07:15 - Live, London) | [Dick/Simmonds/Lindes] |
| 03. | Fortunes of War | (06:29 - Live, London) | [Dick/Cassidy/Boult] |
| 04. | Warm Wet Circles | (06:04 - Live, Newport) | [Dick/Rothery/Kelly/Mosley/Trewavas] |
| 05. | Jumpsuit City | (08:26 - Live, London) | [Dick/Boult/Cassidy] |
| 06. | The Company | (04:12 - Live, London) | [Dick/Simmonds] |
| 07. | Kayleigh | (04:29 - Live, London) | [Dick/Rothery/Kelly/Mosley/Trewavas] |
| 08. | Internal Exile | (04:48 - Live, London) | [Dick/Boult/Simmonds] |
| 09. | Just Good Friends | (06:10 - Acoustic Session July '94) | [Dick/Usher/Boult/Simmonds] |
| 10. | Fortunes of War | (06:25 - Acoustic Session July '94) | [Dick/Cassidy/Boult] |
| 11. | Sugar Mice | (06:58 - Live, London) | [Dick/Rothery/Kelly/Mosley/Trewavas] |
| 12. | Dear Friend | (04:02 - Live, London) | [Dick/Boult/Simmonds] |
| 13. | Lady Let It Lie | (05:54 - Acoustic Session July '94) | [Dick/Paton/Cassidy] |
| 14. | Lucky | (06:08 - Live, Newport) | [Dick/Boult/Simmonds] |
| | Total Time | (73:03) | |
Credits:
All tracks recorded at the Mean Fiddler, London, June 29th 1994, Except tracks 4 and 13 at TJ's, Newport, June 27th 1994 and Track 1 at the Waterfront, Norwich June 21st 1994.
Tracks 9 & 12 at the Millennium Studios for a live radio session in July 1994.
Recorded on DAT, unedited performances
Mastered by Serendipity
Copyright in this recording owned by Dick Bros.
Website: http://web.ukonline.co.uk/fish
Information on merchandise, other Fish albums or general news on Fish send an SAE to The Company
P.O. Box 3, Haddington, East Lothian EH41 3TA Scotland
Fish - Fortunes of War (liner notes)
The idea to develop an acoustic set had come about during the promotion of "Lady Let It Lie", the first single from the 1994 "Suits" album which was in turn the first studio release from Dick Bros., my own independent label created in 1993.
To support the single at retail it had been suggested I play in store personal appearances (PA's) at selected shops in the HMV group of city centre outlets. The first was in Glasgow on April 5th and we basically thought the set up on the drive across from Haddington. At that point the "we" were frank Usher & Robin Boult on acoustic guitars and myself. We drove around in the UK in the "F1SHS" monikered Volkswagen Caravelle which contained our equipment; 3 guitars and a small Bose PA which we set up ourselves in the shops.
The first "set" was "Lady Let It Lie", "Kayleigh" and "Somebody Special" and gradually as we got more confident added "Internal Exile", "Dear Friend" and "Jumpsuit City". The reactions from the fans at the "gigs" was tremendous and in Liverpool we drewaround 300 people. The inimate atmospheres and the stripped down versions of the songs with all their raw energy brought our a different side in the guitarists and the singer. Encores were added, gigs extended and suddenly we were looking at a viable alternative to the electric set which would have been financially & technically infeasable to take on the road for the PA's. The single & catalogue sold well at the PA's but apart from sandwitches, a couple of rushed beers and lots of applause we weren't making any money. We played 14 PA's that month, on occasions 2 in a day. My voice held out well and I discovered new qualities and approaches in the space that was to be found in the new arrangements. I no longer had to fight against the volume of an electric band and was straining my voice a lot less than before. "Suits" of course lent itself to this sort of production as the "song" approach threw up lots of possibilities. In fact 6 out of the 10 songs on "Suits" album would make the acoustic set.
<< More to Follow>>
---
Last Modified: 27 Mar 2003